---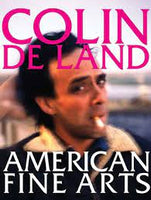 Within the international art world, American Fine Arts, Co., Colin de Land Fine Art was a gallery known equally for its anti-commercial, risk-taking practices and for its charismatic owner, who championed a perennially marginalized discourse that critiqued the status quo of gallery practice. Culled from de Land's extensive archive, Colin de Land, American Fine Arts provides an incomparable look at the activities and personalities that frequented the gallery during its heyday. The photographs and snapshots are accompanied by remembrances from more than 50 international artists and writers associated with the gallery. Part personal history, part expose, Colin de Land, American Fine Arts takes us back to the essence of south SoHo during the late 1980s and 90s, serving as a testament to de Land and his loving wife, gallerist Pat Hearn, both of whom died of cancer but left a legacy of personal style in their respective gallery practices, which have since been sorely missed.
Published by powerHouse Books (May 6, 2008), Length: 256 pages, Hardcover
8.25 x 10.75 inches.